COMMISSION ART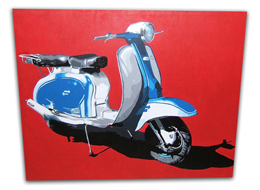 Title: Retro Bike
Date: 2006
Artist: Paul Matchett
Medium: acrylic on canvas
Colour: Red, blue, grey, black.
Support: Gallery wrapped canvas
Size: 30 x 24 inches
Price: £95.00 GBP (FREE delivery to the UK only). see delivery

For more information on this product
please e-mail us.

To pay and commission a similar painting please click add to cart below.

Thank you.
The Bike picture was e-mailed to us asking for a pop art styled painting in shades
of blue with a bright red background. See feedback:

" Stunning piece of artwork, He will be very chuffed with it, It's a surprise present!
Thank you!!! "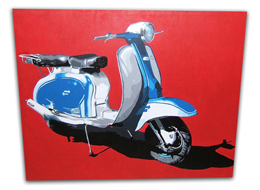 This is a hand-painted original (not a print).

(Other sizes/colours available to order
please e-mail or call with your requirements for a quote.)